Our recommendations for Pet Friendly Stays in Pondicherry
We recently had a new addition to our family. Meet "Chime" our 4 months old puppy who came to our lives in Jan'21. He is such an adorable little chap who loves food, travel & lots of sleep. The pawfect traveler buddy for us.
Since Jan'20, we have not travelled anywhere and stayed home like everyone else due to the pandemic. With Chime joining the family this year, we want to introduce him to new experiences in forms of sounds, smells and meeting more pets. And so we thought why not a road trip 🙂
Travelling with a pet comes with its own pros and cons. We will soon share our experience about it but for now, we will write about some of our recommended  Pet Friendly Hotels in Pondicherry. The hotels/home stays are not in any order of preference or ranking. We have visited each one & stayed in few:
1. Mel Ville "QUARTZ" Penthouse Apartment: While looking for a pet friendly hotel in Pondicherry, we found this place to be trending in top searches. Anup & his Wife, Mehak runs this place with their family. We booked "QUARTZ" room at Mel Ville, which is Penthouse Apartment on the 3rd floor. We stayed here during our recent visit to Pondicherry. The entire space comes with a private – terrace, room, kitchen & small sun deck. We instantly fell in love with this place because it was like home away from home. Tucked in a quiet residential neighborhood very near to the ever-bustling white town, this penthouse had everything that we wanted.
Here's our 2 cents on what you can expect from this place –
Private terrace with lots of open space for our puppy & for yourself
Good WIFI (who doesn't need it these days when we all are working remotely)
Extremely neat (very important for any stay) & spacious room with natural light
The room had a private kitchen with induction gas, fridge & utensils which was a blessing
Mel Whisk is the in-house kitchen service available at Mel Ville which was a savior. On our special request, they provided us with some boiled veggies and meat for our pup 🙂 For humans, they make AMAZING pizzas and some home style meals too 😀
What not to expect from this place –
As we said, Mel is like home away from home. So do not expect some super luxurious rooms with amazing room service like in hotels. Remember it is small family who is running this place.
No stunning views outside your room windows. This place is located in a busy neighborhood, so you will hear bird chirping, kids running around in nearby houses & at times honking from the main street. For us, we never got bothered about these things so all three of us were super happy and comfortable here.
Pro Tip: You can find Mel Ville listed on various travel booking sites but we recommend you directly contact Anup on Google. You will definitely get a better deal if you book this place directly. That's what we did.
2. Le Jardin Suffren: This is a hidden gem & located in the heart of white town, Pondicherry. A heritage building with a beautiful courtyard. We discovered this place because of Madame Shivani 🙂 She was hunting for a good spa & found Le Spa By Cl 45 which is part of Le Jarden Suffren property. The courtyard is full of lush green plants & trees which sends such cozy vibes. While speaking to the staff, she got to know that this is a pet friendly hotel with a cute café, a boutique store & two lovable inhouse dogs, Dilli & Sunny.
We requested the staff to show us the room & they happily agreed to take us around. We saw the studio room "Chile" which was very spacious, had an small open kitchen & private veranda that makes it perfect if you plan to stay here with your pets. We really loved the blue & white color theme which made the room look very sophisticated yet had personal touch to it. Even though we did not stay here, but spent almost half a day here chilling at the café, chatting with staff, playing with their dogs and loved how happy and positive this place is.
3. Villa Helena Guest House: Another pet friendly accommodation in the heart of the old town of Pondicherry. This quaint hotel is set in a heritage building. They have 3-4 rooms in a separate section of the hotel which are made available for pets families. These rooms are on ground floor & open to a common small garden area. We felt the room sizes were little small & open garden area was not so well maintained for the tariffs they charge for this place. What we really liked about this place is the light, bright & spacious open restaurant which is of course pet friendly 🙂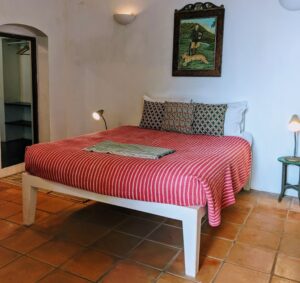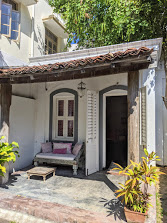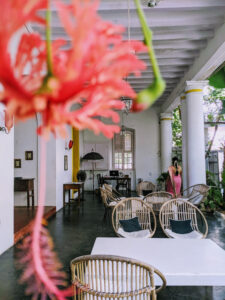 Pro Tips: 
A lot of places claim to be pet friendly but when you book them, you get to know that they do not entertain pets. From our experience, we want to say that before making any reservations, call at the hotel and get a confirmation regarding their pet policies. We all want to have a safe & happy stay for us and our pets. Isn't it 🙂
Some hotels, that allow pets ask for extra charges. however some welcome your pets without any additional costs. Consider booking in such hotels when you're booking your next trip.
You can also find a lot of pet friendly stays in Auroville but we are not listing down any names as we did not visit them personally.
There are definitely many more pet friendly stay options available in Pondicherry. We would recommend you to check them out on Airbnb. They have an easy search filters for pet friendly Airbnb in Pondicherry.
Lastly, we also want to talk about our "not" so good experience at Lily Pool Villa which is also pet friendly hotel. We read the google reviews & decided to book this place via booking.com. When we arrived at the hotel, we found the property was not well maintained & the rooms were shabby. So, we decided an early check out from this place. The pictures uploaded online are definitely stunning but in real they should do some touch up to get back this property in shape 🙂
We hope that you have an amazing time in Pondicherry with your pet! We can't wait to go back one more time! For Pondicherry trip planning, read our detailed blog here.
Hope you enjoyed reading this post. Let us know in the comments or by sharing it with the social media links! We'd love to keep sharing travel tips so feel free to subscribe by e-mail. You can also follow us on Instagram and Facebook