Our experience in Turkey was quite varied, charming and unforgettable and hence penning it in just one blog post won't be possible. So we have decided to create a series on planning the trip to turkey in which we will cover all aspects of our trip in detail. This is the part 1 of our series on Turkey and more will follow
 

 

View this post on Instagram

 
Do you remember that dialogue from the movie UP where Charles Muntz says "Adventure is out there". This is how we felt during our holiday in this beautiful country. We spent 10 days in this gorgeous country and the time flew by before we could realize but we came back with some unforgettable memories to be cherished forever. Turkey has a rich history with its strings strongly tied to the ancient Greek, Roman, Byzantine and Ottoman empires. The country has an abundantly rich history which thoroughly reflects through its Art & Architecture, Food and People. Ankara may be the capital of Turkey but it is Istanbul where Turkey's heart resides. Here's an overview of the itinerary that we followed
Day 1: Walk around & absorb the vibes of Istanbul
Day 2-3: Visit the whimsical fairy chimneys and fly in hot air balloon in Cappadocia  
Day 4-5: Explore ancient treasures in Antalya and unwind in Kaleici
Day 6-7: Get adventurous in Oludeniz
Day 8-10: End it with the best, Istanbul
Visa Process
Visa process for Turkey becomes extremely simple if you have a valid US, UK or a Schengen Visa. Since, we both had a valid US visa, we could apply for Turkish E-Visa online. We filled the form online, paid around 5K INR and that's it. We had the e-visa in our mailboxes half an hour later. For others, you may have to visit the Turkish embassies to get the visa done. For more information, you can click here
Getting to Turkey
Instanbul is well connected to any other city in the world and has two international airports, Ataturk International Airport and Sabiha Gokcen International Airport. We flew with Emirates with a brief layover at Dubai & really enjoyed their top notch hospitality. We were pretty happy with their in-flight entertainment & yummy food. We chose to land at Ataturk International Airport (IST) as it is closer to the European side of the city as well as all the major attractions.  The airport was quite swanky and looked like a lifestyle destination in itself. From the airport we took the airport bus shuttle service to the Sultanahmet Area – The Havas bus from the bus terminal (G-1 floor, gate number 20) and paid 18 Turkish Lira per person
Tips for the Trip
Buy Istanbulkart: This single card (similar to the metro card in India) enables you to pay for multiple types of public transportation in Istanbul: buses, metros, ferries, funiculars, and tramways (yes, even the nostalgic one running on Istiklal Street). Also you can use just one card to buy multiple tickets
Carry the Turkish Lira notes: Most of the local shops/vendors in Turkey only accept Tuskish Lira currency notes. So make sure to carry some cash along. Get some lira currency notes at the airport to buy and load the Instanbulkart card from the counters to be able to pay for the Havas bus
Wear Comfortable shoes: Be prepared to walk a lot especially in Istanbul so wearing comfortable footwear is a must
Stay near Taksim Square:
Day Wise Itinerary
DAY 1: Istanbul
If we are asked to go back to a place, we would definitely answer Istanbul in a split second where we left a piece of our hearts. Istanbul is the city where East meets West. It is a melting pot of different cultures flaunting its modernity yet nurturing its traditions. Our hearts will forever be filled with the memories from this beautiful city
On Day one, we visited the Emigran Park to view the manicured Tulip gardens in its full glory followed by a visit to the not so popular, the Ortakoy Mosque (or known as Büyük Mecidiye Camii), but located at one of the most picturesque settings in Istanbul before taking the evening flight to Capapdocia
 

 

View this post on Instagram

 
 

 

View this post on Instagram

 
DAY 2-3: Cappadocia
The beautiful sceneries of the hot air balloons popping up during the Sunrise was what made us go to Cappadocia and watch the magic ourselves. Cappadocia is located in central Anatolia what is now known as Turkey and the most popular part of this region is Goreme. The other parts where tourism is popular are Nevsehir, Urgup & Uchisar. Since we had limited time in Cappadocia, our first choice was Goreme & we must say that we loved every single bit of this region
 

 

View this post on Instagram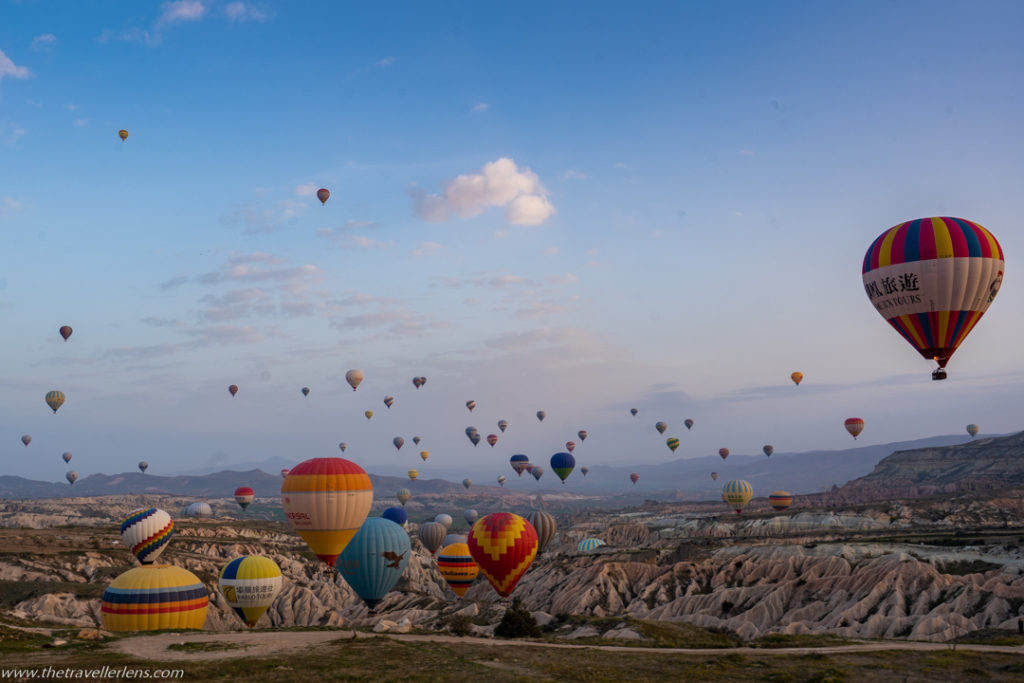 There isn't any dearth of accommodation in Goreme as there are hundreds of cave hotels around and sleeping in one is one of the most popular bucket list items for visitors traveling to Cappadocia. We chose the Local Cave Hotel for its beautiful cave rooms fitting our budget and its proximity from the city center. They also took care of our pick up from the airport via a shuttle bus at a nominal charge and the hot air balloon ride. Would definitely recommend this place for the stay
DAY 4-5: Antalya and Kaleici
After spending time in the magical land of Cappadocia, it was time to head to the stunning Turquoise Coast of Turkey. We picked Antalya as our next destination as this charming city is on the Turquoise Coastline and is surrounded by some stunning views and has some marvelous ruins like Aspendos and Thermsessos in its vicinity
We flew with Turkish Airlines from Cappadocia (Kayseri Airport) to Antalya. Do plan and book the flights in advance as there are limited flights in number which fits your itinerary. Again, bus services are available & one can explore this option as well . Car rental & road tripping is another option that can be explored if you have more time in hand
DAY 6-7: Oludeniz
After a bit of leisure vacation, it was time for some adventure. And so we chose Oludeniz. Oludeniz is a resort village on the southwest coast of Turkey and attracts tourists from all over the world for its blue lagoon, Saklikent National Park and the white Belcekız Beach
DAY 8-10: Istanbul
this time we chose to paraglide from one of the highest commercial take-off sites in the world.