Jaipur, the Pink City of India is the capital of Rajasthan and is one of the most popular tourist destinations in India. In our recent trip to Jaipur, we were there for 3 days. If you are headed to Jaipur, you must read our detailed travel guide to Jaipur. Apart from the gorgeous heritage palaces, gardens & museums, this city will amaze you with its colourful & vibrant culture and to add to it are the amazing local markets where you can buy wooden handicrafts, jewellery, clothes and much more.
If you are in Jaipur, check our shopping guide to the pink city. So here's our list of Best places to shop in Jaipur City: 
Blue Pottery:
With its Turco-Persian origin, Blue pottery of Jaipur has become very popular and widely known as a traditional craft of this city. You can't take off your eyes from the bright cobalt blue colour products with beautifully carved designs like motifs, flowers, birds and animal. We visited "Neeraja International" to pick our collection for Blue Pottery. In here, you can find jewellery, doorknobs, tiles, mirrors, bowls, plates and many more things.
Address: Neerja International, 1 Anand Bhawan, Jacob Road Civil Lines, Jaipur. Contact numbers: +91-141-4112609; +91-9829043679, +91-9829006039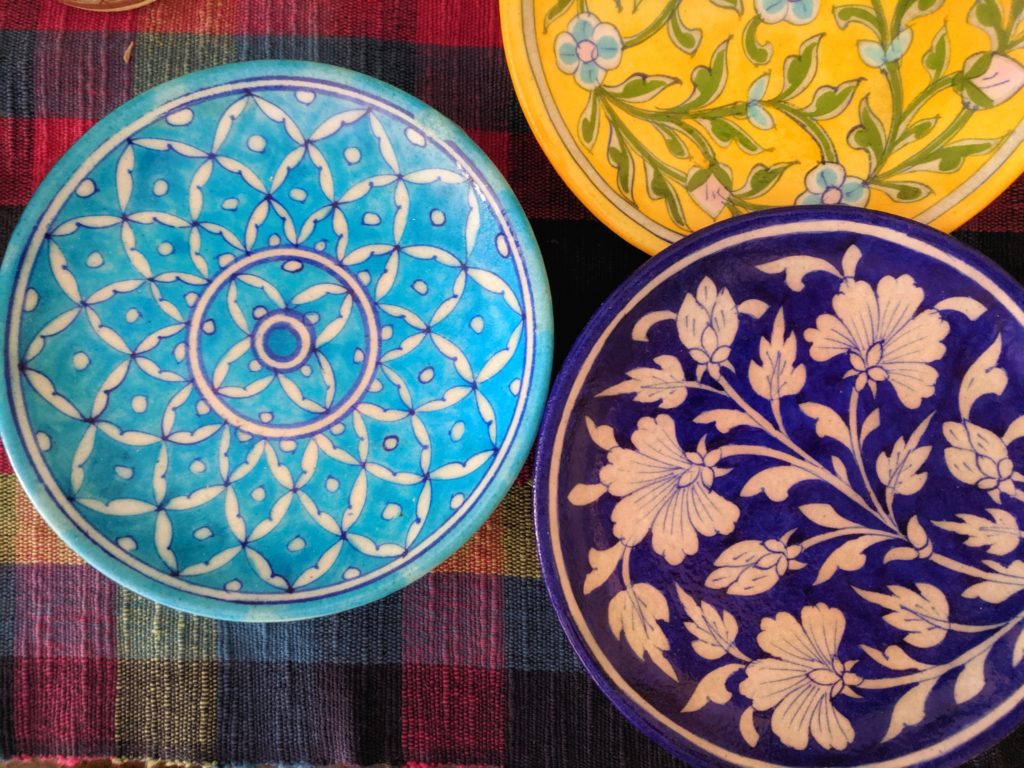 Jaipuri Razai:
Very thin & lightweight Jaipuri Razai (quilt) is a must buy when you visit this city. After doing our research, we decided on to visit the famous razai shop named "Kadar Bux", shop no. 11. Do take into account that there are multiple shops named Kadar Bux but one should know which one is the original shop. We found some really gorgeous razai designs here.
Address: Kadar Bux, Shop No- 11. Hawa Mahal Bazaar, Old Assembly Hall, Jaipur. Contact numbers: +91-9024563657; +91-98282463532.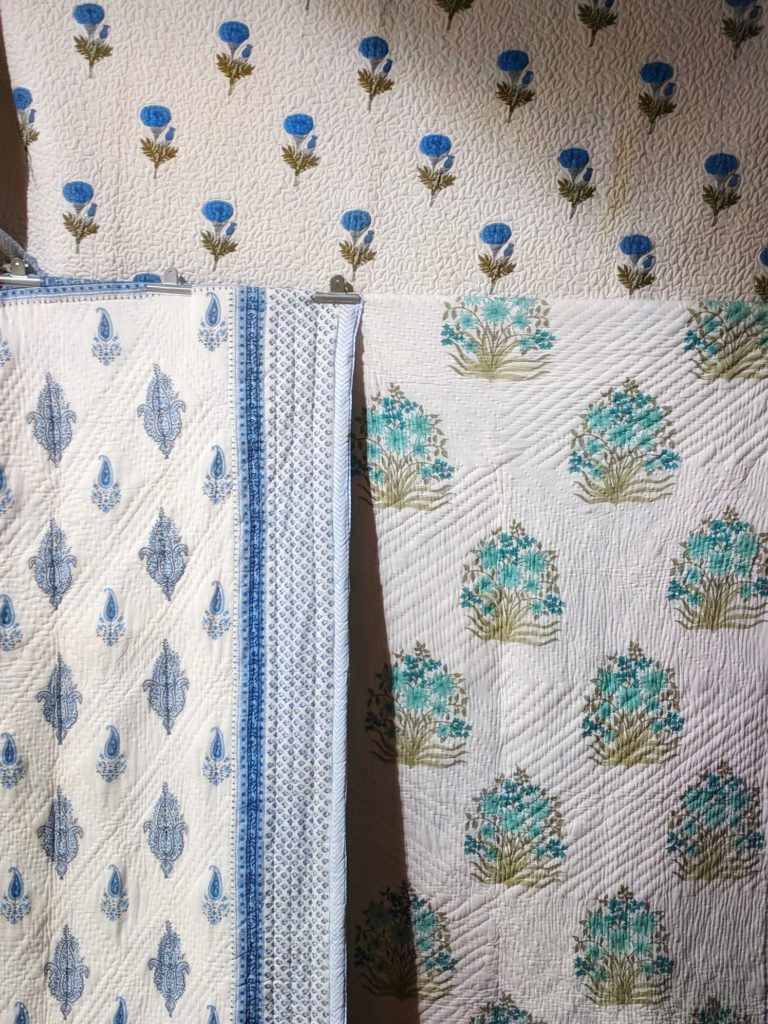 Block print bed sheets, covers and dohars:
Again loads & loads of shops in Jaipur where you will find amazing quality products. We have been to Jaipur twice & both times we ended up visiting "Durga Textiles" in Bapu Bazaar. We loved their amazing collection of block print bed covers & bedsheets. They also have some good collection for quilted men's jackets
Address: Durga Textiles, Shop No- 76-77. Bapu Bazaar, Jaipur. Contact numbers: +91-9929648297; +91-9460501119
Kundan Jewellery:
Johari Bazaar Road in Jaipur runs north from Sanganeri Gate to the Badi Chaupur traffic circle. This market street is the hub of Jaipuri gem and jewellery trade and is a good place to pick up silver and enamel bracelets and earrings. You will find everything from gold bangles to cheap costume jewellery in the shops that line this road. Looking for authentic heritage & timeless Indian luxury jewellery in gold & silver, then do visit Amrapali Jewels, one of Jaipur's most famous jewellery shops.
Address: Amrapali, Panch Batti, Mi Road, Near Raj Mandir Cinema, Jayanti Market, New Colony, Jaipur
Rajasthani Puppets Dolls: Every nook & corner of Jaipur's Bapu Bazaar, you will find these colourful pair of puppets (also known as Kathputli). A very beautiful souvenir to take for your family and friends.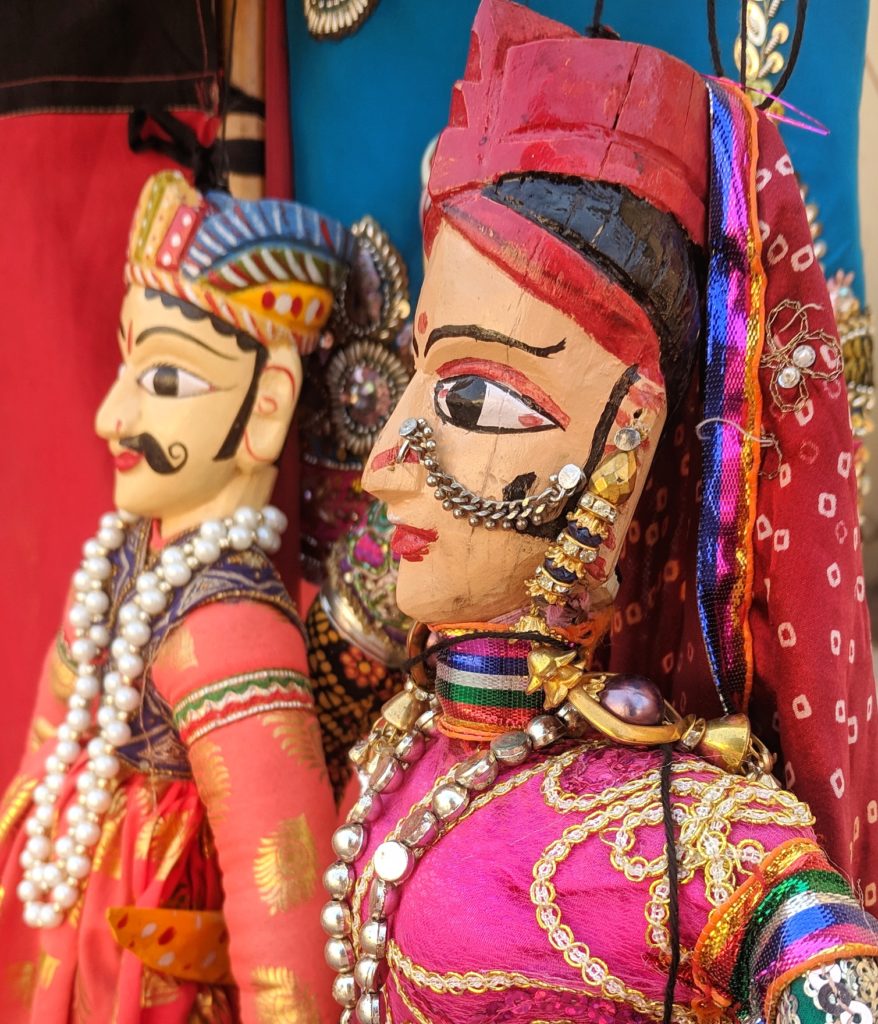 Textile & clothing:
Rajasthan is well known for its quality textiles, some of the most famous being hand block prints, leheriya and tie n dye. There are numerous shops in Jaipur where you can find an irresistible collection of these cotton shirts, jackets, sarees, dupattas and fabrics. Some of our recommendations are: Ranas Saree Emporium, Anokhi, Soma Shop, Cottons Jaipur, Suvasa, Bunaai
View this post on Instagram
Hope you enjoyed this post. Want to plan your Jaipur trip? Read our detailed travel blog on Jaipur. Let us know in the comments or by sharing on social media. We'd love to keep sharing travel tips so feel free to subscribe by e-mail. You can also follow us on Instagram and Facebook