Kochi is one enchanting city in the God's Own Country. And Fort Kochi, a region in the city of Kochi, is literally an intriguing potpourri of various cultures which can be seen and felt in it's every nook and corner. From Pardesi synagogues to the giant Chinese fishing nets to the Dutch cemeteries to the century old hotels & houses and lot more
 

 

View this post on Instagram

 
A bit about Kochi History
Kochi traces its history back many centuries, when it was the center of Indian spice trade for hundreds of years. We had read about it all at the Indo Portugese Museum and took notes. In the 13th century, the floods in the Periyar & Pamba rivers created the backwaters. When the water receded, the city of Kochi (Cochin) was born and soon became a popular harbor. People from different places such as Arabia, Persia, China frequently visited the harbor & established their presence. In the 15th century, the Portuguese arrived & set up the first European settlement in India with its headquarters in Fort Kochi, constructed building and churches and did the trading of spices with the King of Cochin. In 1662-63, the Dutch came and conquered the city of Cochin from the Portuguese but gave away the city to the rising British power in the 18th century
Getting There
Kochi, a growing metropolis of Kerala, is touted to be one of the most popular tourist destinations to visit when in India by foreigners and Indians alike. We took an early morning flight from Bangalore to Kochi which just took one hour and fit our budget as well. As soon as we landed in Kochi we were awestruck by the beautiful paintings and sophisticated decor at the airport. We were so impressed to know that Kochi Airport is the world's first airport to be fully powered by solar energy. Quite impressive isn't it
By Air: Kochi is easily accessible and almost all the domestic airlines fly in and out of Kochi. The Kochi airport is located a bit far from the city, around 44 km from Fort Kochi. One can easily get prepaid / uber / ola taxis at the airport to reach the city.
By Road: Driving down to Kochi is another fun yet smooth way of reaching there with the added enjoyment of driving through Kerala countryside
By train: Kochi is well connected to almost every part of India through the means of Indian Railways. It has direct trains running to either of the two railway stations in Cochin – Ernakulam Town Station and Ernakulam Junction Station from all major cities in India
By Water:  One can reach Cochin by water from destinations like Goa, Mumbai, Lakshadweep, Colombo and Male. There are regular yachts and cruise ship services on these routes and make for a scenic journey
Top things to do in Fort Kochi
When in Fort Kochi don't go looking for a Fort since there isn't any. The first part of its name comes from the Fort Emmanuel which was constructed by the Portuguese but was destroyed by the Dutch when they invaded Kochi. Today only the ruins of the Fort remains.
1. Kochi Muziris Biennale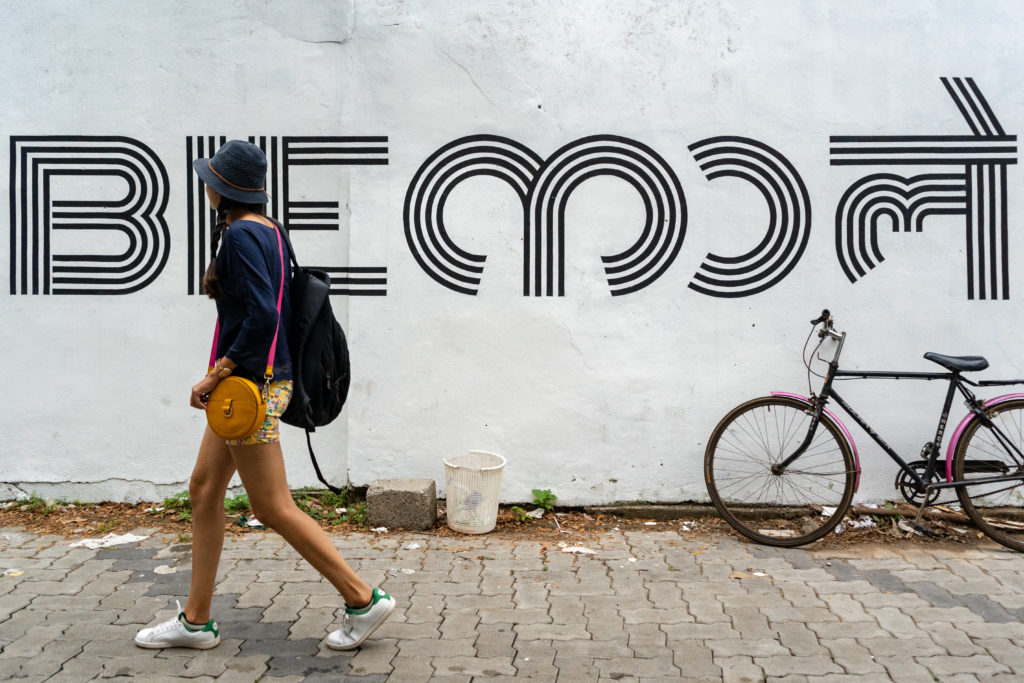 Click here to read our detailed post on the Kochi Muziris Biennale
Kochi Muziris Biennale, an art exhibition and festival, is the largest of its kind in South Asia. The fourth edition of the Biennale will run from 12 December, 2018 until 29 March, 2019. Artists from all over the world exhibit their art work at Biennale, Cochin. The Biennale takes place in a range of venues centered around Fort Kochi-Mattancherry. All venues are open every day from 10 AM –  6 PM with free entry on every Mondays. Click here to see more information.
We suggest starting the day from the Aspinwall House and spending at least half a day here as it is the primary venue of the Biennale hosting numerous artist led projects and events spaces. The tickets for the Biennale are available here for INR 100 or you can buy them online as well.
The entry is free to all venues if you visit on a Monday. Various interesting workshops like clay modelling, wood carving, painting amongst many others are conducted in these venues during the festival.
2. Kathakali performance
Kathakali is a story-play genre of art but amazingly distinguished by the colorful make up, costumes and face-masks and not to be missed when in Kochi. We visited the Kerala Kathakali Centre in Fort Kochi & attended the evening show. The group performed draupadi's vastraharan and bheem avenging her by killing dushashan. and was quite enthralling. We watched the entire performance literally at the edge of the seat, totally thrilled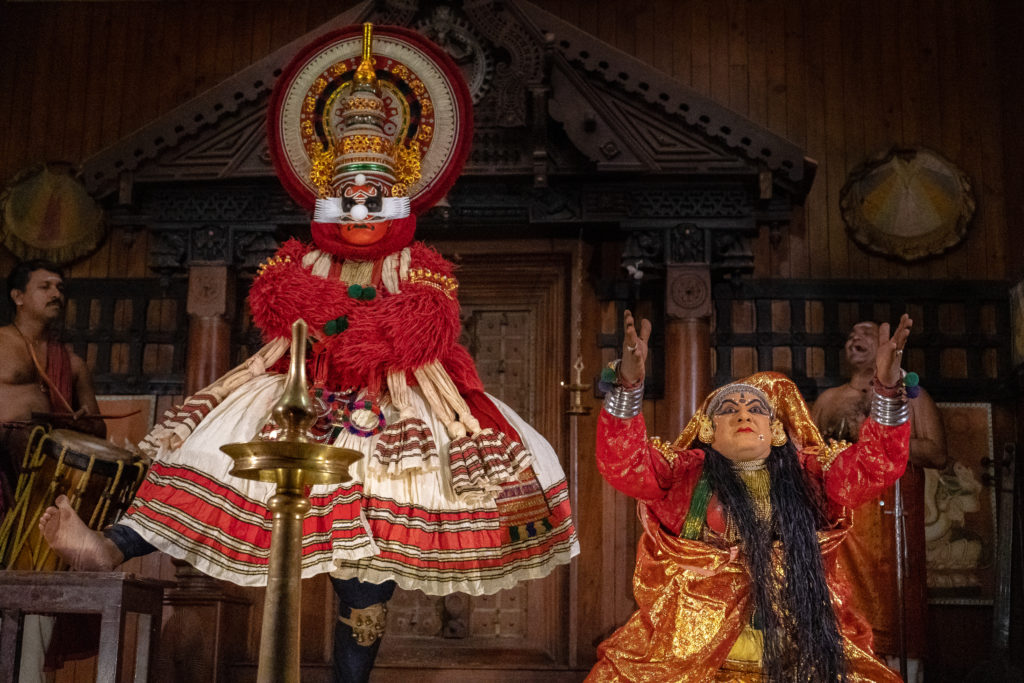 Tip: Usually there are two evening shows & mostly go houseful, it is advisable to call & block seats in advance and the tickets can be later picked up from the venue. To make reservations you can call on +919895534939/ +919895860646 or click here to visit their website
3. Chinese Fishing Nets
One of the most iconic landmarks of Cochin are the Chinese Fishing Nets or Cheena vala as called by locals. Catching a sunset is a must near these fishing nets. People do complain about the place being over-crowded & dirty but the sight of catch being brought in, and the nets being lowered back into the sea, is one not to be missed. Quite interesting to see how these nets works on the principle of balance, made of teak wood & bamboo poles
 

 

View this post on Instagram

 
The Beautiful sun setting behind the Chinese Nets
4. Streets of Fort Kochi
You know what is one of the best attractions of Fort Kochi – It's vibrant streets. These artsy streets have a lovely old world charm and house the European style quarters laden with beautiful bougainvillea and is undoubtedly the most buzzing part of Fort Cochin. Either rent a bicycle or a bike to comfortably explore around and soak in the beauty of these lanes
During our stay in Fort Kochi we aimlessly wandered around the Bastian street, Rose Street, Burgher street, Princess Street and River road to name a few and discovered such gorgeous local cafes, restaurants and shops. All these streets also have lovely graffiti arts painted on its walls and adds to the charm of these streets and not to be missed
5. Churches of Fort Kochi
In a city with so many churches, St. Francis Church and Santa Cruz Basilica are our favorites. The St. Francis Church is actually one of the first European churches built in India. Presumably it owes its origin to the Franciscan Friars who accompanied the Portuguese expedition in 1500 AD. Here in this church, Vasco Da Gama was laid to rest in 1524 AD until his remains were removed and taken to Portugal in 1538 AD
6. Jew Town
A small neighborhood of Mattancherry, the Jew Town got it's name in 1524 when the Jews migrated from Kodungallore and were given shelter in the city by the King of Cochin. Today, there are only handful of Jews who reside here but the local shops selling souvenirs, antique products and spices thrive in this neighborhood.
When in Jew Town, dont miss visiting Sarah Cohen's Shop. She is the oldest surviving Paradesi Jew of Cochin and perhaps the most photographed and fondly visited member of the community. Amongst hordes of tourist shops in Jew town, her shop is one of the last few authentic Judaica shops. The shop sells products like table cloths, runners, Kippa (cap) etc.
Situated in the middle of the Jew Town, The Pardesi synagogue is a historic Jewish site of culture, religious and artistic significance. It was built in 1568 by descendants of Spanish, Dutch & other European Jews. When visiting this synagogue, do notice the ornate glass chandelier that was bought from Belgium and the stunning hand painted 1100 floor tiles from china, none of them identical (Photography isn't allowed inside the synagogue). In case you are interested to know more about the history of Jews in Kerala, do buy an information booklet available in the Synagogue for just 100 INR.
Click here for the Google Maps Location of the Synagogue
Visiting Hours: 10 AM to 1 PM and 3 PM to 5 PM on all days except Fridays (afternoons), Saturdays and Jewish holidays
7. Mattancherry Palace Museum (Dutch Palace)
The Mattancherry Palace is a must visit for any history enthusiast. The museum is housed in one of the sections of the Palace which was built in 1555. During 1665, this palace went under major repair under Dutch's rule & hence came to known as the Dutch Palace. The most stunning part of the palace are the Mural paintings covering nearly 300 sq.m area depicting various scenes from the Ramayana. The palace museum exhibits oil paintings of the Kochi Rajas, their Palanquins, Dress, Weapons & a lot more interesting details.
Visiting Hours: 9 AM to 5 PM on all days except on fridays (Entry Fee – 5 INR)
Click here for the Google Maps Location
8. Indo-Portuguese Museum
The Indo – Portuguese Museum displays the eminent influence of Portuguese on the art and architecture of Kochi. Quite a good place to visit to know about Kochi History. Photography is not allowed inside the museum
Visiting Hours: 10 AM to 5 PM on all days except Mondays and Public Holidays.
Our 2 Cents
Hire a bike or a cycle to comfortably explore Fort Kochi. We rented a bike from Ocean's Pride Tour at reasonable charges. Call Biju at 9746492193 / 9846960093 for more information. (Landmark: Alice Delices Restaurant) 
You can also choose to cover the major attractions in Fort Kochi via one hour auto ride. The auto drivers usually charge 100 INR for the tour but you may have to bargain with them
Stay in Fort Kochi as there are quite a few luxury & budgeted stay options available
Do not forget to bargain while shopping
Wear comfortable cotton clothes as it gets pretty hot and humid during the day in Kochi
Get up early in the morning and you will have the beautiful streets and the graffiti arts of Fort Kochi all for yourself minus the crowd
Buy spices from the Gujarati Bazaar near Jew Town as the locals shop from here. At other places you may be overcharged
Most sightseeing places in Kochi are closed on Mondays. The usual timing of these places are 9 AM to 1 PM and 2 PM to 5 PM. So plan accordingly
Hope you enjoyed this post. Let us know in the comments or by sharing it with the social media links! We'd love to keep sharing travel tips so feel free to subscribe by e-mail. You can also follow us on Instagram and Facebook